When the mission is  "to inspire, train, and connect Christians who seek to bear witness to the kingdom of God by reclaiming and restoring under-resourced communities" , you can only imagine what might happen at one of their conferences !  Christian Community Development Association — (CCDA) — a long title with a huge vision for "wholistically restored communities with Christians fully engaged in the process of transformation."   Fully engaged Christians was exactly what (who) I experienced there !
I've decided that this has been my favorite conference so far (and I've been to quite a few) for one simple reason — the people !  … "fully engaged Christians"  who  were all about "reclaiming and restoring under-resourced  communities " with the power and passion of Jesus Christ using  all the gifts He gives to love others in meaningful  relationships.  We had all left home to attend and yet we all felt very much "at home" with each other…family.
There wasn't a single hero in the crowd — yet  everyone a hero in their own way.  Phrases  like– "intentionally moving into a neighborhood", "reconciliation", "redemption", "act justly, love mercy, walk humbly with our God"– were commonly overheard in conversation.
In the process of 3 days, several people and their "missional ministries" became very dear to my heart.  Sometimes conversations with others happen in a way that just plain seem orchestrated by God.  I had several of those "moments" and just had to share out of that overflow!
~~~~~~~~~~~~~~~~~
A lot of things get broken and people are no exception to the breaking. Breaking can take on many forms but we all know what it looks like when something is "broken".  It's not healthy …it doesn't work like it's supposed to …or it doesn't look like it's supposed to …it needs  fixing  or it'll eventually be thrown out.  We all are  broken in some way but sometimes whole neighborhoods get broken … badly broken.  Sometimes it's bad choices — sometimes lack of resources — sometimes it's a lack of good role models — sometimes it just seems like there's no other option.
I met a couple of amazing young women–Nikki and Heather– who happen to love the broken and with God's help, are seeking to offer ongoing relationships with those in broken neighborhoods — along with offering better options !  They're living  with and living out the call of Jesus to "preach GOOD NEWS" — to rescue – to restore – to rebuild – to offer true hope.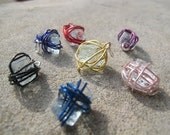 Nikki shared this with me … "New Life BLING was an answer to a community question of generating income for personal needs as well as needs of the whole family, such as paying bills. Giving young people an opportunity for employment through the vehicle or entrepreneurship AND an alternative to some of the ways of the "street" that teens were feeling pulled into.   One of the most popular creations is "Urban Hope." Urban Hope charms are made from broken safe glass from busted out bus stops—each charm is a visual display redemption and restoration."
I'd love for you to meet them so I'm sharing their story with you and, with their permission, some info from their blog site.   I'll let their words speak for themselves .
Meet  "New Life BLING"…
Handmade by girls and mama's on Chicago's westside, BLING brings beauty from the chaos. Within the BLING program, girls as young as age 8 learn to create and sell their own jewelry. Middle Schoolers are taught life and business skills through the small group setting which allows them to develop their jewelry skills, but also develop their character. Two teens were hired as apprentices and acquired many vocational skills key to finding and keeping employment. Mommas meet one morning a week where they are taught a lesson and then challenged to innovate. This time also serves as a time to mutually support one another. Check out our blog at  www.newlifebling.blogspot.com  to read the stories.

Girls used these beautiful beads to learn basic earring skills.

We love color! Bold and beautiful! A 14 year old, her nine year old sister, and 11 year old brother made these memory wire bracelets–it was a family affair!

Stars with an edge! A fourth-grader made these earrings!

Double stranded bracelets made by a very special woman who then proceeded to teach eight other women who then taught their girls.

NewLifeBling's Shop

Beauty from the Heart of the City.  Born in 2009, BLING is a youth-ran jewelry business that seeks to empower, encourage, and educate young women through the vehicle of entrepreneurship.

"Behold, I make all things new!" This bracelet serves as a reminder of this.
  The Spirit of  the Sovereign LORD is on me, because the LORD has anointed me to preach good news to the poor. He has sent me to bind up the brokenhearted, to proclaim freedom for the captives and release from darkness for the prisoners,
Isaiah 61:3
and provide for those who grieve in Zion— to bestow on them a crown of beauty instead of ashes, the oil  of gladness instead of mourning, and a garment of praise instead of a spirit of despair. They will be called oaks of righteousness, a planting of the LORD for the display of his splendor.
…binding up the broken …wrapping in beauty …displaying God's splendor !
I LOVE the heart and mission of these women!   Check out their blog site posted above or check them out on Etsy  @
You can be a part of all this wild and  crazy story of grace and do some life-giving Christmas shopping all at the same time 🙂 !